Goddard Space Flight Center, Greenbelt, Maryland 20771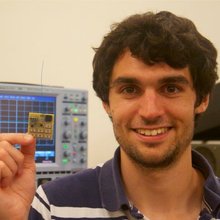 ENGINEERING COLLOQUIUM
Monday, December 12, 2011 / 3:30 PM, Building 3 Auditorium
Zac Manchester
"The Sprite Project: Satellite on a Chip"
SPEAKER -- Zac Manchester is a Ph.D. student in Aerospace Engineering at Cornell University with an interest in small spacecraft and a passion for expanding access to space.  For the past several years he's been working on the Sprite - a prototype spacecraft-on-a-chip device capable of collecting sensor data and communicating with ground stations from low Earth orbit.  Zac earned a a B.S. in Applied and Engineering Physics and a M.Eng. in Aerospace Engineering from Cornell.
---
Next Week: No Colloquium: Happy Holidays!
---
Engineering Colloquium home page: https://ecolloq.gsfc.nasa.gov